Rocinha Communidade – Brazilian Favela Tour with Zezinho
Over 1 million people, or more than 20% of the population of Rio De Janeiro, live in a favela, ad hoc communities that government has little control over. Originally founded by marginalized Brazilians with no other options, most favelas are perched high in the mountains where little public infrastructure exists. Despite this, favela populations have grown steadily over the years as Rio real estate prices skyrocketed and more Brazilians crowded into the big cities.
Because there is little government control, gangs and drugs have infiltrated the favelas. Despite this, favelas are vibrant communities full of life and hardworking people that live without fear. Schools, shops, restaurants, banks, and even some national chains exist in the favela as these communities become more accepted by mainstream society.
Some may call favelas shanty towns, but those that live there call them home. I was fortunate to go on a favela tour hosted by Zezinho, a great tour guide and a long time resident of Rocinha Communidade, one of the most prominent favelas in Rio. He gave us a behind the scenes look into his life in Rocinha and invited us into his house to let us know what it's really like to live in a favela.

An aerial view of the patchwork of hollow brick houses in Rocinha, just outside of Rio

Colorful buildings at the base of the mountain where the Rochina favela begins.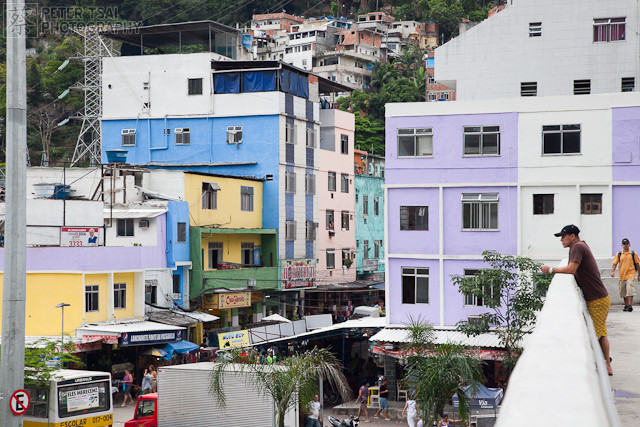 A man pauses to take a break on the bridge that leads into Rocinha.

The curves and arches of the bridge that leads into Rocinha. Zezinho told us that many say that the main arch (on the left side) was designed to look like a woman's bikini bottom.

Behind the nicer buildings at the base of the community, lie the houses more typical of the favela

A view from inside the favela looking out. Rocinha backs up to some of the nicest neighborhoods in Rio, complete with skyscrapers.

Houses stacked one on top of the other in Rocinha

One of the narrow, often slippery, graffitied passages that run through Rocinha. The art on the wall was made in support of the 2010 Brazilian World Cup team.

A very tiny cat that was on someone's front porch in an alleyway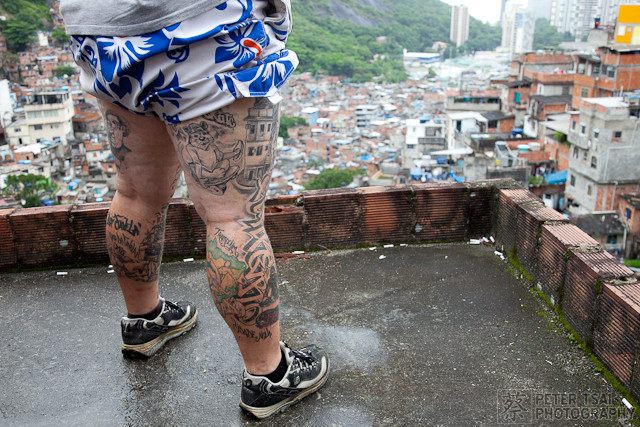 Rooftop view of Rocinha Favela with DJ Zezinho and his tattooed legs. The tattoo on his upper right thigh is particularly interesting. It depicts a sitting cat on a skateboard with sandals on his hands. While we were in Rocinha, we saw a man without legs riding down the mountain the same way.

Zezinho showing off his tattoos, all of which are about Rocinha, the community he lives in

Restaraunts, shops, and banks at the bottom of Rocinha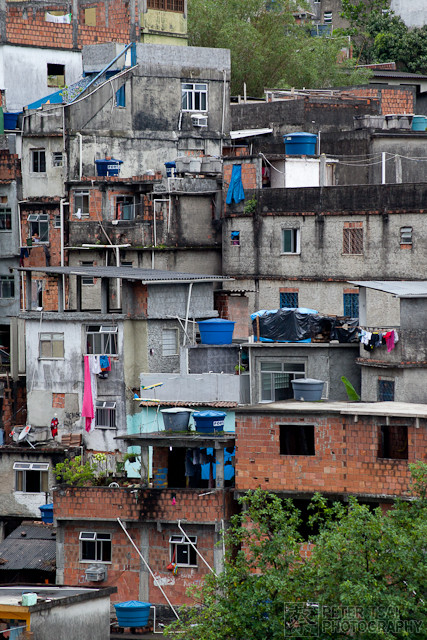 The blue water tanks on top of houses are big enough to hold 7 days of water, and it's only pumped up once a week. Zezinho said when you run out, you run out, so no American style long showers!

A woman does laundry on a favela roof in Brazil

Baile funk DJ, Zezinho's graffiti banner.


Zezinho in his own words, describing why he does favela tours. To learn more about Zezinho, follow his blog at http://lifeinrocinha.blogspot.com.