Photography Everywhere – Quick, Light, and Easy Mexico Travel Photography on Instagram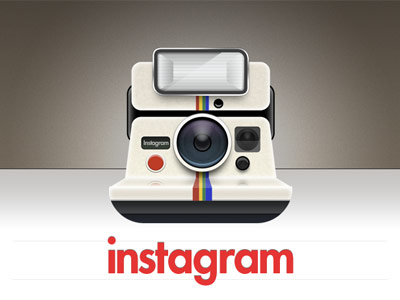 Millions of people around the world are obsessed with photography and capturing the special moments around them no matter when or where. They drag around large, heavy cameras and associated accessories on both trips around the corner and half way around the world. I know these crazed individuals well, I'm one of them!
However, many serious photographers are feeling a little less attached to their bulky, expensive DSLRs with recent improvements in the quality of smartphone cameras on the iPhone and the Android family of devices. Because these devices feature a reasonably high quality camera, smartphones are rapidly replacing the point and shoot digital cameras.
Also, because smartphones are computers that feature great software specifically designed for photographers, editing and sharing photos from your vacation while you are still on your vacation has become easier than ever before. I tell people that having my smartphone is like carrying a camera, Photoshop, and Flickr in my pocket all in one device. Also I don't have to spend hours after the fact processing photos – I do it while I'm watching TV or waiting on food at a restaurant.
While the picture quality of the iPhone camera isn't anywhere close to my 21 megapixel Canon 5D mkII, often I can get shots that I would never have gotten before. I can take my smartphone anywhere I go without feeling burdened by 15 pounds of metal strapped to my back and people aren't as intimidated by a cellphone camera, allowing for more candid street imagery. As a result, I find myself leaving the big camera back in the hotel quite often when convenience trumps image quality and when I don't feel safe with big expensive camera screaming I'M A TOURIST (someone has tried to mug me before, but that's a different story altogether).
Speaking of apps and photo communities, my favorite iPhone app of all time is Instagram. The Instagram app includes easy Photoshop-like editing and simple Flickr community style sharing. The filters (quick settings that transform your photos with a single click) that Instagram provides are amazing – it can make any shot you take look like a vintage photo in no time at all. There are about 12 different filters and many of them can mask weaknesses in the phone's camera – making dark photos brighter, pulling back overexposed photos, and adding contrast to washed out pictures.
Enough talking – I'll now let you be the judge. The following 12 photos were taken on my recent trip to Puerto Vallarta, Mexico and all were edited using only the Instagram application.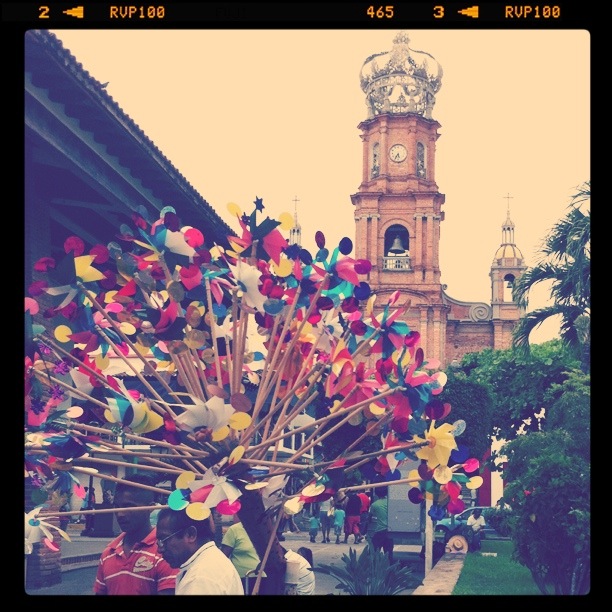 Mexican street toy vendor in front of a cathedral in downtown Puerto Vallarta – Nashville Filter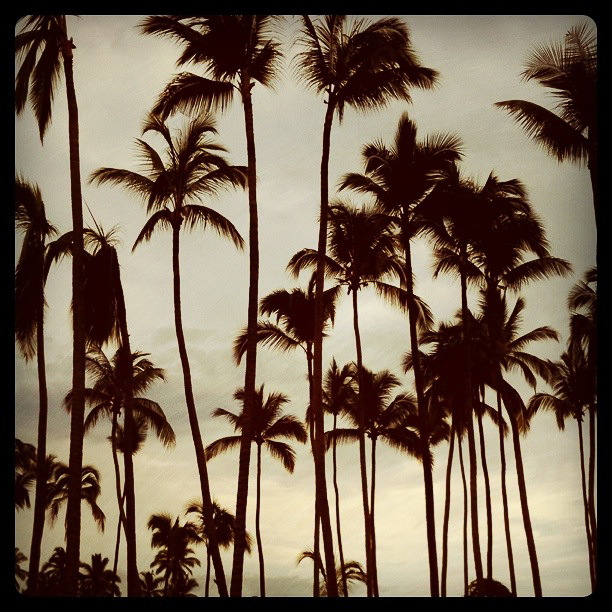 Palm Tree Silhouette on Puerto Vallarta Beach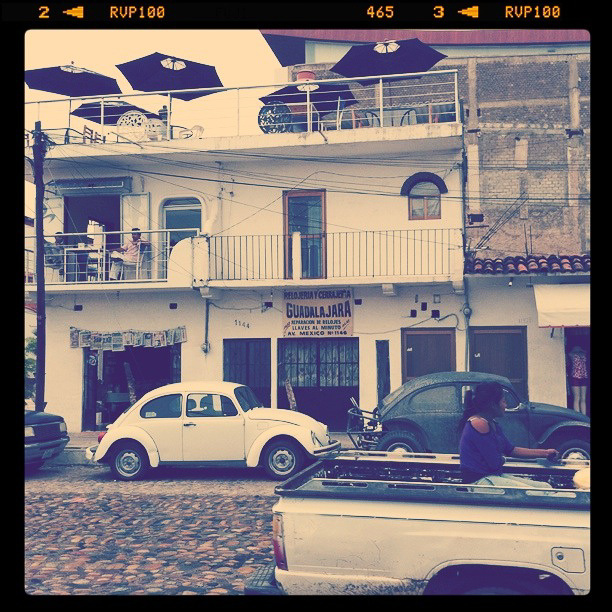 The Streets of the tourist section of Puerto, Vallarta – Jalisco

Girl in the rain through a car window – Puerto Vallarta, Mexico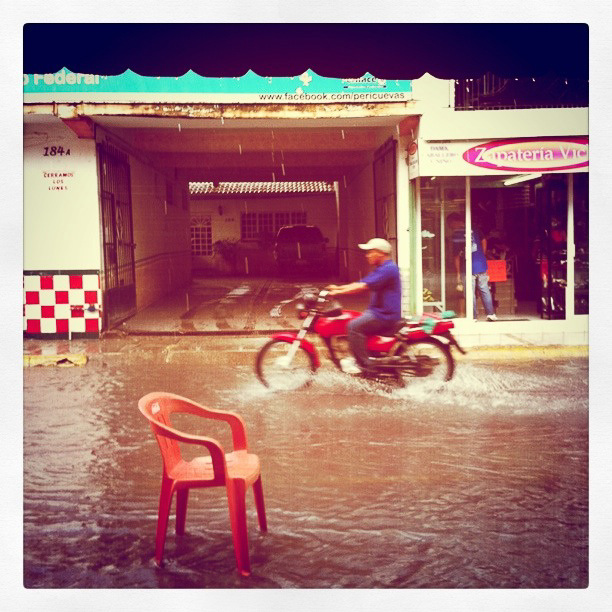 Motorcycle in the rain – Puerto Vallarta, Mexico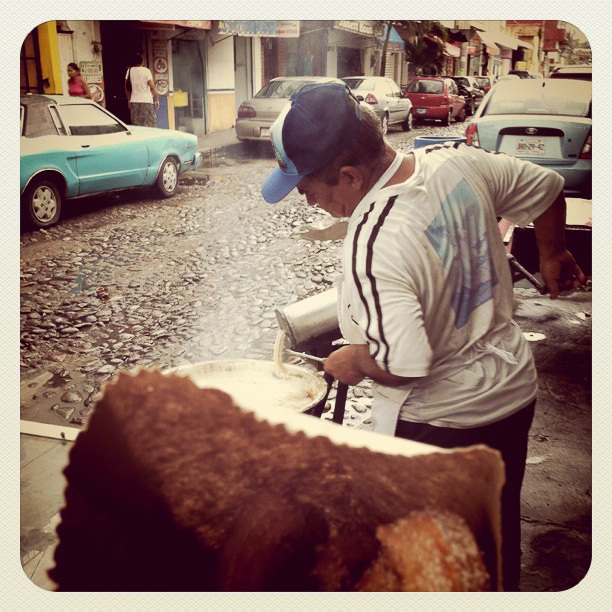 Street vendor squeezing out dough into a deep fryer to make Churros – Puerto Vallarta, Mexico

An intentionally lo-fi Mexican Tequila Tour photo taken in the pouring rain.

#HereIStand – My feet next to the dog paw prints made in Mexican clay Saltillo tiles

Mexican Jaguar art

Mexican Street Food – Elotes Asado. The corn pictured here is the same corn used to make tortillas. Larger and less sweet than the corn we are used to in America.

Mexican Aztec Art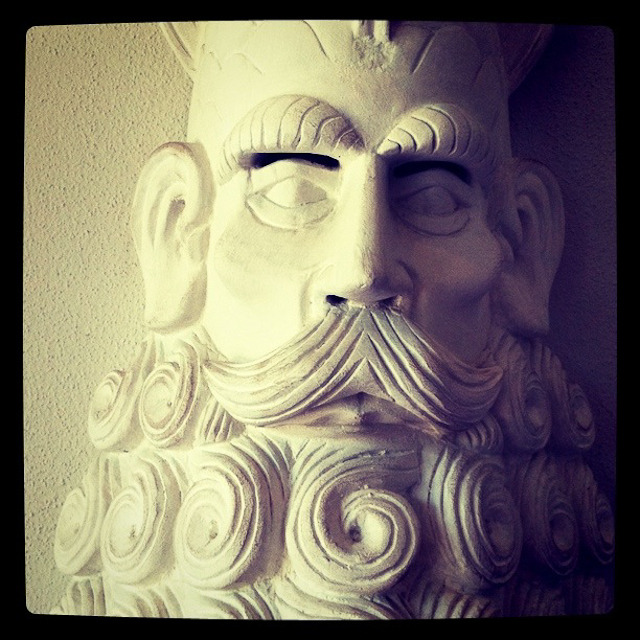 Half Man – Half Fish sculpture at our hotel
So what do you think?
Instagram might not be for everyone – picture quality after filters have been applied can be a bit lacking if you are obsessed with image quality, but there is no denying the appeal of the platform. For casual users who want highly stylized images with minimal effort, Instagram is a slam dunk.
You can't discount the social features of Instagram either – I've met so many cool people through this simple service, and dare I say I like it the most out of any photo sharing service out there, even Flickr. On Instagram, there is a real sense of community – perhaps because all users are part of the iPhone community currently and therefor similar, and also because Instagram, like Twitter, allows the use of hashtags, which make it easy to find people with similar interests or who are in the same geographical area.
So, How do you like Instagram? On what occasions have you ditched your DSLR for a smartphone camera?
If you are already as crazy about Instagram as I am, my username on the service is supertsai