Panasonic Lumix 25mm 1.7 Review + 10 sample images – Micro 43rds Lenses
The Panasonic 25mm 1.7: It's the new plastic fantastic, a nifty fifty for Micro 43, a cheap lens that produces expensive looking images. Could it be the lens you've been waiting for?
With a list price of $250, it's relatively inexpensive compared to other offerings from Panasonic and Olympus. And on Black Friday 2015 many photographers got it for a steal of a deal at $99 bucks! The lens sold out quickly and is currently backordered at that price (as of Dec 2015), but it's available for around $160 on Amazon.
Is this new, inexpensive lens worth it? What do the images from this 50mm full frame equivalent look like? Below you'll find 10 sample images!
Initial impressions / quick review of the Panasonic 25mm 1.7
If you don't have any primes for Micro 43rds yet and you don't want to spend a lot of money, this might be the lens you're looking for. Photographers upgrading from a standard kit lens usually turn to fast primes, and a 50mm lens is often the first place they go (the Canon 50mm f1.8 "plastic fantastic" comes to mind).
Lenses in this focal range are often compact, a great value, and versatile… serving well as a half length portrait lens (but not as a headshot tool due to distortion) and as an all-purpose lens that captures photos with lots of bokeh AKA dreamy looking blurred backgrounds. You might have to back up a bit with a 50mm equivalent lens though because it's not very wide. This a good example of an inexpensive 50mm lens, although to achieve a rock bottom price, Panasonic skipped the metal and went with plastic.
Pros – Panasonic 25mm 1.7
– Great image quality
– Pleasing bokeh
– Sharp in the center even wide open
– Quick focus speed
– Lens hood included
– Does the job for a very low price
Cons – Panasonic 25mm 1.7
– Plastic construction
– Doesn't have a premium feel
– Noticeable chromatic aberration (that's easily fixable in Lightroom)
– Lens is not very small – the Olympus 25mm 1.8 is much more compact

Size comparison of the Panasonic 25mm 1.7 vs the Olympus 25mm 1.8

10 sample images from the Panasonic 25mm 1.8 for m43
Overall I was pleasantly surprised with the lens and though it offered great image quality for the price. It's definitely worth the $99 price tag I paid for it and is still a good value if you can get it for under $200. In the uncropped and unretouched photos below, I'll talk about the good, the bad, and the just OK aspects of the lens.

In the sample image above you can immediately see that the lens produces very pleasing bokeh. At f1.7, I was able to completely blow out the background to the point where you can't really see the mess on the table behind the mason jar. The closest object was the notebook 2 feet behind the point of focus. For reference, the wall is about 10 feet from the main subject.

The Panasonic 25mm 1.7 has minimum focal distance of 9.84″ (25 cm), meaning you can fill the frame completely with a standard sized mason jar. This isn't the best macro performance ever because with a dedicated macro lens you can fill the entire frame with a quarter coin. This photo was shot at the minimum focal distance, which produces the maximum bokeh possible with the lens.You'll notice a purple fringe in the reflection on the letter "L", which I left in on purpose so you could see what to expect.

Once again you'll see very pleasing bokeh in the image above (shot at f1.7) and a ton of detail in the intricate pattern in the twine.

This is another photo shot at the minimum focal distance at f1.7 that shows the sharpness you can expect wide open.

MOAR BOKEH! Notice how blurred the background is here. The light at the top is about 5 feet away and in the back is my unrecognizable refrigerator, which is 10 feet away.

Another example of fine detail you can get shooting with this lens wide open.

This is about as close as you are going to get to a small flower with this lens… just OK performance.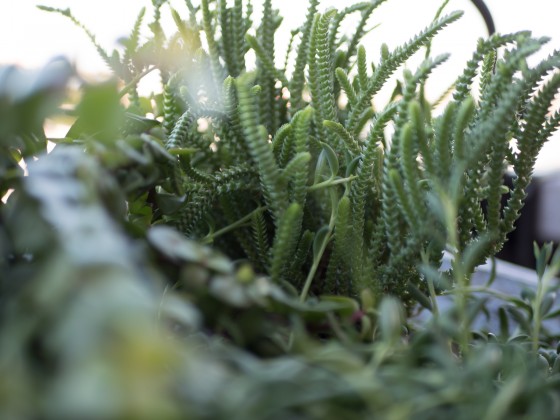 Another attempt at macro with this lens. You aren't able to get close but you get pleasing bokeh and subject isolation… but there is purple fringing in backlit situations.

The focus on this lens is quite impressive, making it suitable for chasing down children or pets around the house. A split second after my dog looked up, I was able to lock focus and shoot. The detail in his eyes is quite sharp at f1.7. And no… he did not bring the slippers to me. Bad dog.

Yet another example of how much bokeh this lens produces. The dog is only a couple of feet tall when sitting, and the carpet beneath him is quite blurred.
Conclusion
The Panasonic 25mm 1.7 prime lens produces excellent sharp images with very pleasing bokeh! It focuses quickly and accurately and and despite it's low price, it hangs with the equivalent product from Olympus. Where it cuts corners is on build quality (all plastic) and size (a little bigger than you think it would be). The other issue I noticed was chromatic aberration, but that's easily corrected in Lightroom. Overall it's a great bargain and would make a great addition to any kit, especially for photographers on a budget.
If you'd like to purchase the 25mm f1.7 lens, I would appreciate it if you used the affiliate link below: