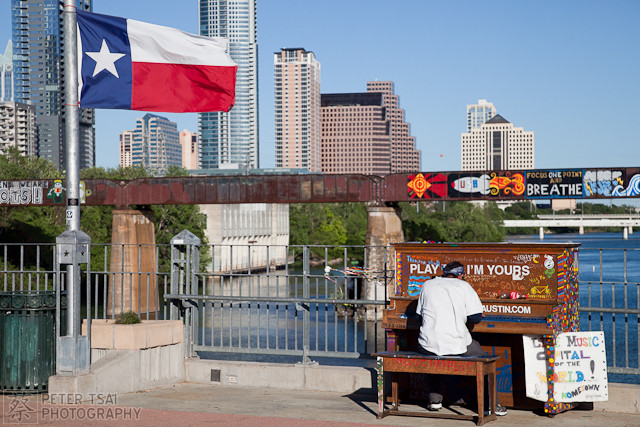 Austin Street Pianos – Play Me I'm Yours Presented by Austin Art Alliance
If you've been around downtown Austin lately, you have probably noticed pianos on the street in some of Austin's most popular tourist spots. This public art display is part of the "Play Me, I'm Yours" exhibition, sponsored by the Art Alliance Austin.
These pianos invite passers by to take some time out of their day to play some music to hopefully bring a little joy into the lives of others. The street pianos are on a worldwide tour, and their time in Austin won't be for long. The pianos are being packed up for their next destination on May 1st, 2011. To read more about the Art Pianos, check out a post about them on the Austin Photo Book blog.
Update 5-6-2011 – For Part 2 of the Austin Piano series, check out the post entitled Goodbye Austin Street Pianos.

Pastel Art Piano at the W Hotel in Downtown Austin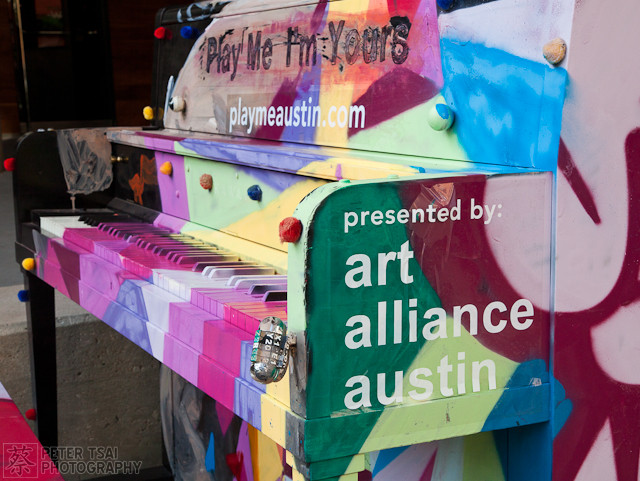 Another photo of the W Hotel Art Piano in Austin, Texas

Orange City Hall Street Piano Art at Austin City Hall

Shadow, Light, and an orange art piano under the Austin City Hall canopy

I Love You Piano at Lou Neff Point in Austin, Texas – this reminds me of the I Love You So Much graffiti just a mile away from this spot

Austin StreetArt Piano on top of Doug Sahm Hill. This one has Godzilla art on the bottom near the foot pedals

The same piano on Doug Sahm Hill – Love!

Play Me I'm Yours – Austin Art Piano under the Auditorium Shores Pavilion

Mimi the Austin Pets Alive Dog at Lou Neff Point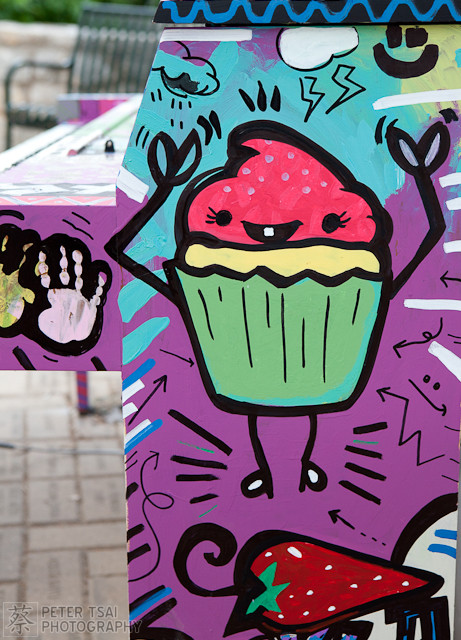 Austin Cupcake StreetArt on the piano at Lou Neff Point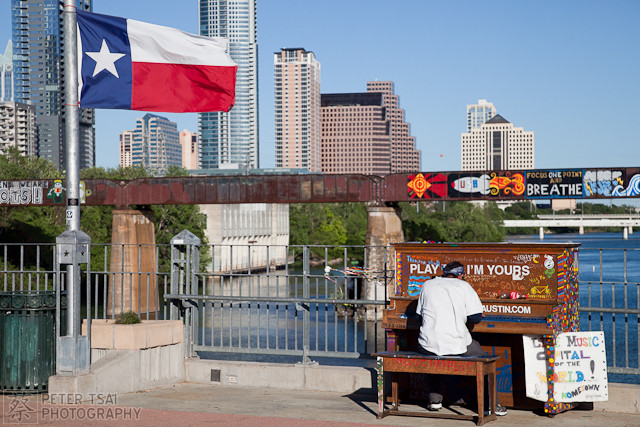 Piano Man on the Pfluger / Lamar Pedestrian Bridge on Town Lake – Austin, TX

I Heart Music Piano – Austin, Texas