Olympus OMD EM5 vs Canon 5DmkIII – Size & Image Quality
My aching back yearns for a light camera system suitable for taking anywhere. I want a camera to take out to restaurants, out for a long walk, even out to a bar without drawing too much attention or taking up too much space or intimidating potential portrait subjects. Also, because I travel a good deal, I want to carry a small camera body and 2-3 extra lenses with me all day without any discomfort.
UPDATE: May 25th 2015 – I've written a follow up post to this review, which compares the OMD EM5 mkI vs the OMD EM5 mkII
Don't get me wrong – I love the Canon 5dmkIII. It's an amazing camera with outstanding image quality and I never hesitate to use it for wedding or portrait shoots that I'm being paid for. Also, the camera's low light capabilities allow me to shoot in almost any low light situation. However, the thing is just too darn big and the lenses are too huge for casual purposes.
  – Body is 2.9x smaller by volume, 2.2x lighter
Canon 5DmkIII size: 5.98 x 4.57 x 2.99″
Olympus OMD EM5 size: 4.8 x 3.5 x 1.69″

Canon 5DmkIII weight: 950g
Olympus OMD EM5 weight: 425g
Micro 43rds Lenses vs Canon EF Lenses
– Equivalent Lens is 3.6x lighter, 2.8x smaller by volume
   45mm Olympus Zuiko f/1.8 is a 90mm equivalent full frame lens
Canon EF 85mm 1.8 weight: 15 oz. / 425g
Olympus Zuiko 45mm 1.8 weight: 4.1 oz / 116g

Canon EF 85mm 1.8 size: 5.4 x 4.3 x 4.3″
Olympus Zuiko 45mm 1.8 size: 3.3 x 3.3 x 3.3″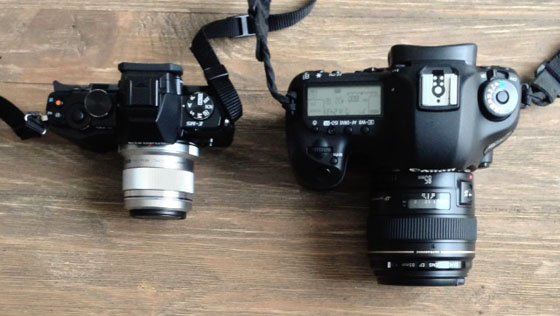 Recently, camera manufacturers launched several mirrorless interchangable lens systems that promise less of the bulk without compromising much on image quality. Most notable are the Sony NEX system, the Panasonic / Olympus Micro Four Thirds system, and to a lesser extent the Canon M series and Nikon 1 series.
About a year ago, I settled on the Olympus Micro Four Thirds system because of it's small size, but most importantly the amazing lineup of extremely compact and fast \ bright, high quality lenses. While the NEX system promises a larger sensor and theoretically superior image quality, to me the biggest turnoffs to the NEX system are the lenses. NEX bodies may be razor thin, but the lenses are almost as large as APS-C DSLR lenses, slower (The Sony pancake lens has a maximum aperture of 2.8 while the Panasonic 20mm is a bright f/1.7), and lacking in the selection of lenses.
However, the image quality coming from the older Olympus sensors was a bit lacking (EPL-1 through EPL-3 and EP-1 through EP-3). I purchased an Olympus EPL-1 Pen camera a year ago and found the image quality to be great under ISO 400, but disappointing at higher ISOS (anything above ISO 800 was pretty unusable). Also, the resolution of these cameras topped out at 12 megapixels, which is on the lower edge of what I wanted.
I had almost written off this camera system when the Olympus OMD came out with excellent image quality up to ISO 3200 and the most advanced in camera stabilization of any camera to date. Many on the Internet were saying that Olympus had finally released a suitable DSLR replacement camera.
I recently purchased an OMD of my own and have found it worlds better than earlier Olympus Micro 43rds cameras. Below are sample images so that you can judge for yourself.

Olympus OMD EM5 with 45mm (90mm full frame equivalent) f/1.8 Zuiko Lens @ f/2 and ISO 400 (click to view a larger image)

Canon 5DmkIII 85mm f/1.8 EF Lens @ f/2 and ISO 400 (click to view a larger image)
When you are shooting with similar glass on a 5DmkIII and a an OMD, it's pretty safe to say that the image quality of the OMD and DSLR are very similar up to about ISO 1600. For web sized images, image quality is almost indistinguishable. The photos above were shot at nearly identical camera settings, and you'd be hard pressed to to tell me which image was shot with an EM5 and which one was shot with a Canon 5DmkIII. For those that love to peek pixels, I've resized both images to 3000 pixels on the long edge for a direct comparison.
The biggest difference and tell tale sign in my mind is the difference in depth of field between the two camera systems. Because the Micro Four Thirds sensor is half the size of a Canon 5dmkIII, images from the Olympus OMD will appear to have 2 stops more depth of field as a full frame image. So, the background is a bit more in focus in the top image. Even though it was shot at f/2 on the OMD, the corresponding focal plane would be as wide as the same image shot at f/4 on a 5DmkIII. This is most noticeable by looking at the bottom right corner of the image.
Overall, the OMD is amazingly light and a joy to work with. I'm still a little in disbelief how well such a small camera performs. The advanced image stabilization in body is a huge plus as well – I am pulling off images handheld that I normally would not be able to get with my DSLR. Also, the EVF and ability to use the tilting touchscreen on the back to take pictures is an awesome feature for shooting at odd angles. Also, the autofocus speed of the camera is also very impressive and almost on par with my 5DmkIII in most situations (except for tracking moving subjects).
The only downsides of the OMD camera system are the small button size and the fact that the AF does not track quite as well as a professional level DSLR. For casual users that want DSLR quality in a much smaller package though, this camera is a home run.
One more caveat is that to get DSLR like quality, you should upgrade from the kit lens. The 14-42 kit lens that came with my camera produces point and shoot like images (too much of the frame in focus for my liking) and a general lack of sharpness. However, the 20mm Panasonic f/1.7 prime and the 45mm f/1.8 lens are outstanding.
The following gallery of images are photos I took in the first week of owning the OMD.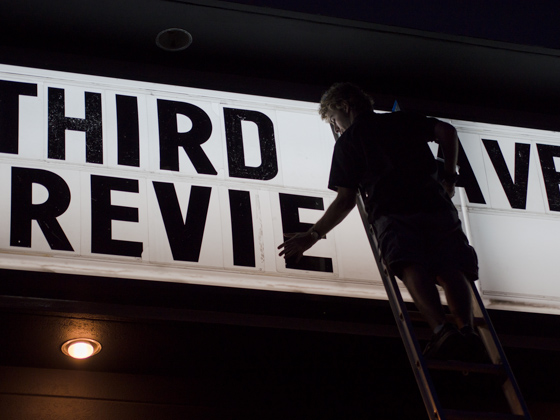 Marquee – Olympus OMD EM5 – 45mm Zuiko Lens – 1/1000 sec, f/1.8, ISO 200
SouthPop – Olympus OMD EM5 – Panasonic 20mm Lens – 1/50 sec, f/3.2, ISO 250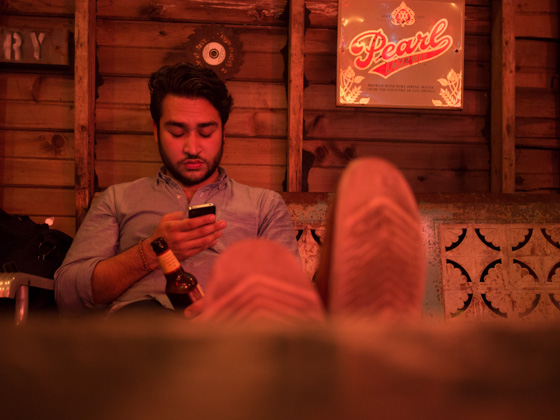 Nicolai – Olympus OMD EM5 – Panasonic 20mm Lens – 1/13 sec, f/1.7, ISO 1600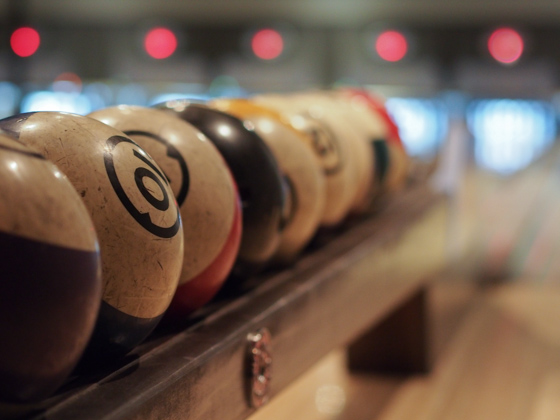 Bowling Balls – Olympus OMD EM5 – 45mm Zuiko Lens – 1/60 sec, f/1.8, ISO 1600
Lucian – Olympus OMD EM5 – Panasonic 20mm Lens – 1/60 sec, f/1.8, ISO 400
Dueling Photographers – Olympus EM5 – Panasonic 20mm Lens – 1/50 sec, f/1.8, ISO 640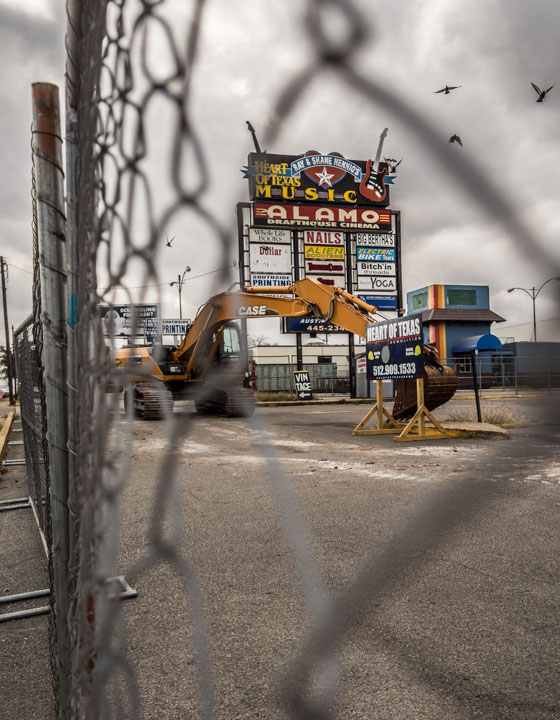 Destruction in the Heart of Texas – Olympus 14-42 II kit Lens – 1/1600 sec, f/3.7, ISO 200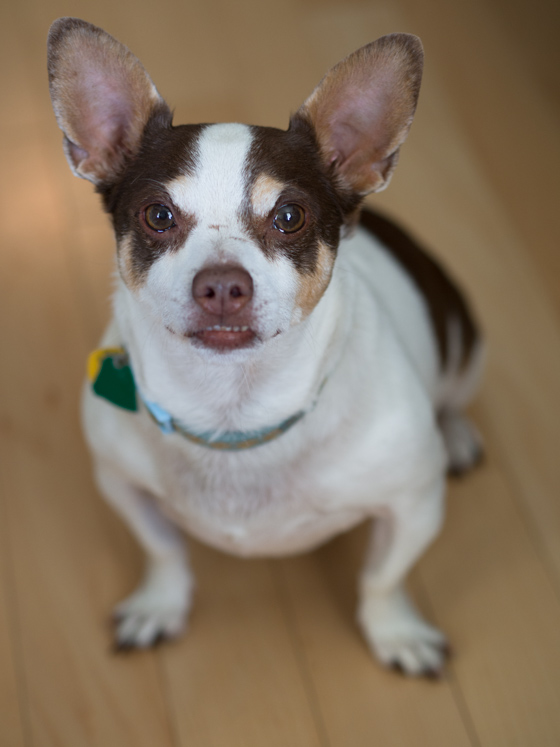 Bugsy – Olympus OMD EM5 – 45mm Zuiko Lens – 1/100 sec, f/1.8, ISO 250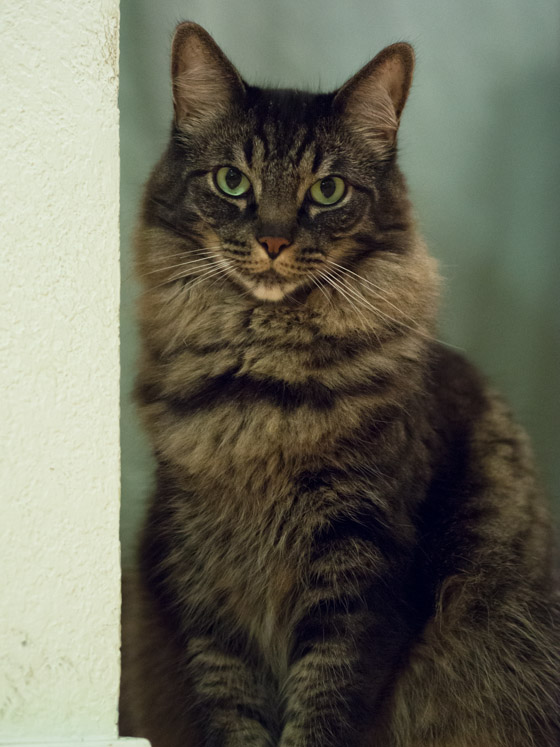 Obligatory Cat Picture – Olympus OMD EM5 – 45mm Zuiko Lens – 1/100 sec, f/1.8, ISO 3200
(click on the image to view at full size)
In summary, the Olympus OMD EM5 makes for an amazing walkaround camera.  In addition to being 3 times smaller than my 5DmkIII and half the weight, it has the benefit of providing in body image stabilization, a tilting touchscreen that allows you to take photos more easily, a surprisingly fast AF system, and a full range of options, bells and whistles.  Unlike previous generations of m43 cameras, this one performs extremely well in low light situations up to ISO 3200.
I wouldn't hesitate to recommend this camera.  I have a feeling that my 5DmkIII sees much less use going forward, coming out only for the big jobs.  For everything else casual, the OMD will be my go to system because of it's small size and almost DSLR like image quality.