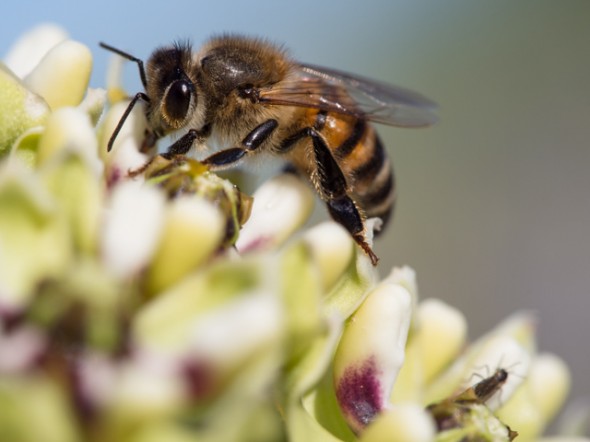 Olympus 60mm Macro For Micro 43rds Review (On an Olympus OMD EM-5)
I've been shooting with the Olympus OMD EM-5 for 6 months now, and for the most part, loving the results.  This camera has great image quality for a camera it's size, an amazing in body stabilizer system, and great build quality and features like a touch screen which can be used to focus on specific points. Additionally, the tilting screen of the OMD EM-5 body, it's relatively fast auto focus,  and very responsive live view allows me to get handheld macro shots at odd angles that I was never able to get on my DSLR system.
The Olympus 60mm f2.8 Macro lens is one of my favorite primes of the Micro Four Thirds system for it's sharpness, pleasing bokeh, and ability to focus very close (1:1 magnification on a 2x crop sensor, so effectively 2:1).
This post highlights some of my favorite macro images taken with the 60mm 2.8 macro lens.
Close up of a bee gathering pollen from a Green Antelope Horn flower – shot from a very low angle taking advantage of the tilting screen of the OMD.
Tiny bird house – creamy bokeh  f2.8 – ISO 800
Water on parsley – ISO 200 f3.5 – Olympus 60mm Macro – this image is VERY SHARP
Very shallow depth of field – the female anole in our garden. The 120mm effective focal length of the lens lets you get pretty close to animals without them flinching much.
Butterfly on a green horn antelope flower wildflower – see the creamy bokeh in the background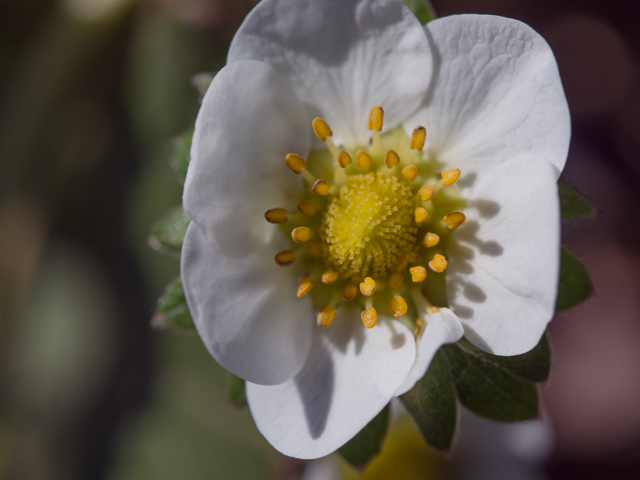 Strawberry flower in bloom at Sweet Berry Farm
The 60mm macro isn't bad for portraits either – f2.8 ISO 2000
Bee on a green antelope wildflower
Flower close-up – 60mm macro lens
Yellow crab spider  on a yellow wildflower
Small yellow crab spider  on a large purple flower
Green anole hiding behind a catnip leaf
Closeup of a Bluebonnet flower – taken using a screw on close up filter attached to the macro lens.  The focal point is still quite sharp even with the use of close up filters.
Bee gathering pollen from a Texas bluebonnet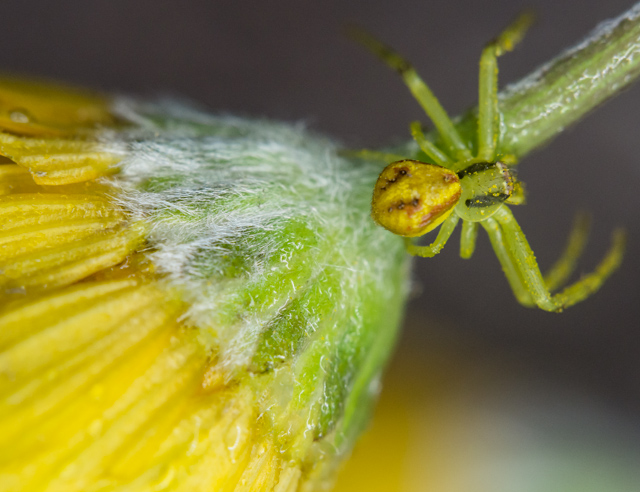 Yellow and green crab spider on a yellow and green flower
Overall, I recommend the lens if you want to do close up photography.  The Olympus 60mm 2.8 macro lens for Micro 43rds is a very sharp, close focusing lens that works well as a macro lens or a portrait lens.  It runs $499 MSRP and is worth the price in my opinion.
The main advantages of the lens are it's light weight, small size (compared to my Canon 100mm  2.8 Macro).  The sensor stabilization of the OMD EM-5 and good focus on the camera body make getting the shot easier when working handheld, and  the tilting screen allows you to get shots from angles not possible with a DSLR.
Do you have this lens too? What do you think?