Ditch the DSLR – Traveling Light with Mirrorless Cameras in Korea
Photographers!  You don't have to travel the world dragging around a giant DSLR camera anymore. You can get awesome pictures with less bulky camera gear. For the size and weight of one DSLR and a single lens, you can carry a couple of mirrorless camera bodies and a whole bunch of quality lenses. How do I know this?
I just went on a 2 week tour of Korea carrying around my Olympus Micro 4/3rds kit (OMD EM5 + 6 lenses) and my Canon EOS M camera (with a pair of pancake lenses).
We went to 5 different cities in only 2 weeks, and having a small camera made it a lot easier to transfer between planes, cars, trains, and the subway.  Also, smaller cameras bring some of the joy back into photography, as you aren't physically exhausted by the end of the day.
Also, having a huge range of lenses at your fingertips allows you to get the shot you really want (with big cameras I was always compromising on which lenses I could carry).
What was I carrying around? 7 lenses and 2 camera bodies in a single bag! This is a Retrospective 5 from Think Tank with a lot of my own dividers – there aren't really any great small bags for more than 5 mirrorless lenses.  This is the best option I know about, but it's using my DIY divider solution… for all of the bag manufacturers out there, you need to make a bag like this!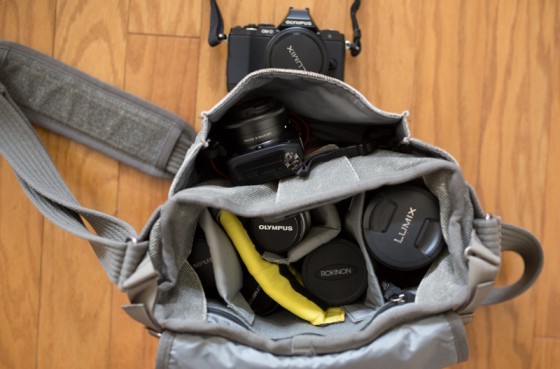 Does using only mirrorless camears only introduce challenges? Sure it does… but for travel where the main purpose of your trip is not photography, this is the best option. Would I shoot portraits or weddings for paying gigs only on mirrorless? Probably not, but then again I still have a full frame DSLR. Here are my pros and cons for going mirrorless for travel:
Mirrorless Cameras for International Travel (in 2014):
Pros:
Small size (especially with pancake lenses)
Easy to have a nice camera with you all the time
Small cameras don't draw attention – get more candid shots
Take all of your lenses with you everywhere
Image quality is very nice (although not equal to full frame DSLR)
Easily slip a mirrorless camera with a pancake lens into a jacket pocket
It's not as physically demanding to carry a camera around
Cons:
Focus speeds can be slower than on a DSLR
Battery life is shorter on the smaller cameras (make sure to buy spares)
To match DSLR quality, you need to use low apertures on prime lenses
Typically you get less bokeh on mirrorless cameras than on full frame DSLRs
It's still hard to find a good bag to hold a lot of mirrorless lenses
No optical viewfinder
Full Frame is king for portrait photography
Here are the pictures from Korea and mirrorless camera / lens combo used: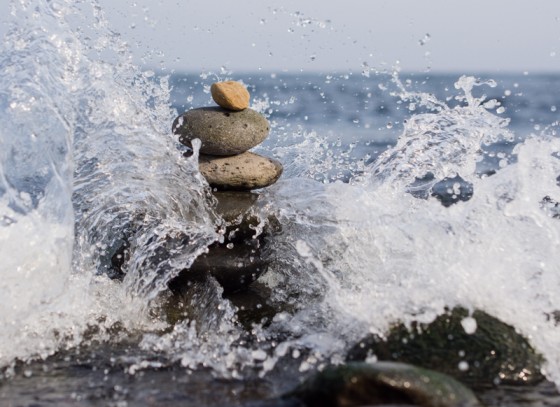 (Olympus OMD EM5 + Olympus 45mm 1.8) – Jeju Island waves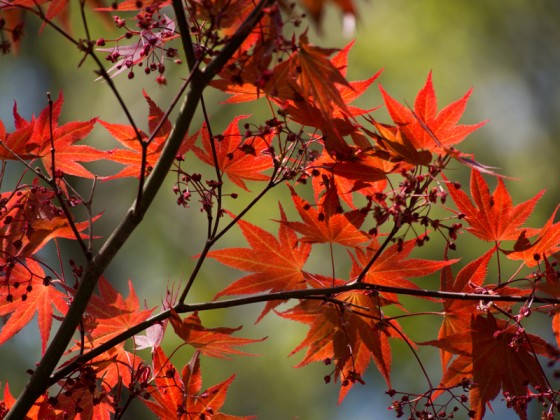 (Olympus OMD EM5 + Panasonic 100-300 zoom, which provides great bokeh even for a f5.6 lens) – backlit Asian red maple

(Olympus OMD EM5 + Olympus 45mm 1.8) – Temple at Seongsan Ilchulbong – Jeju Island

(Canon EOS M + 40mm 2.8 pancake lens with adapter) – Fermenting Kimchi next to the laundry

(Canon EOS M + 40mm 2.8 pancake lens with adapter) – cute Korean dog

(Olympus OMD EM5 + Olympus 12mm 2.0) – Pig Head for Sale

(Olympus OMD EM5 + Olympus 12mm 2.0) – Fresh fish in the market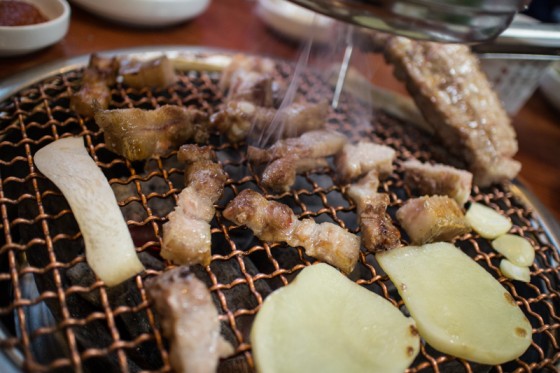 (Canon EOS M + 22mm 2.0 pancake lens) – grilling pork belly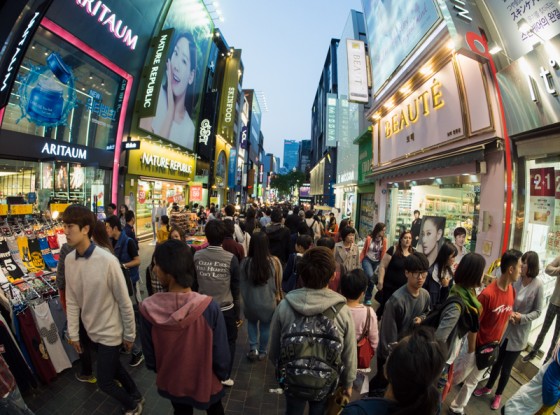 (Olympus OMD EM5 + Rokinon 7.5mm Fisheye) – Myeongdong at night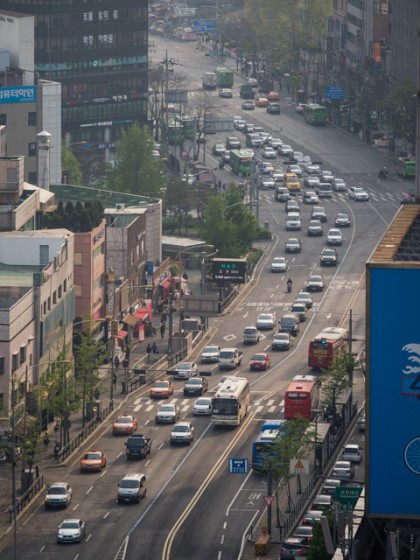 (OMD EM5 + Panasonic 100-300 zoom) – Seoul cars lined up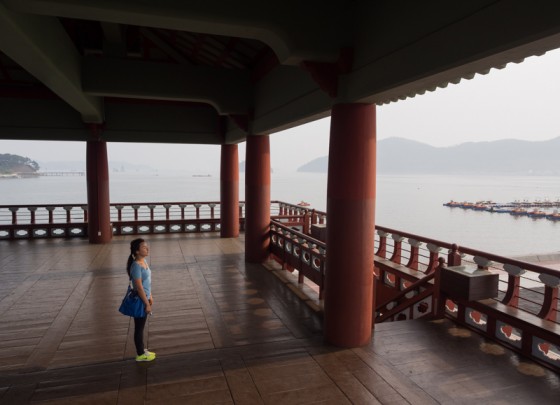 (Olympus OMD EM5 + Olympus 12mm 2.0) – Pavillion in Jinhae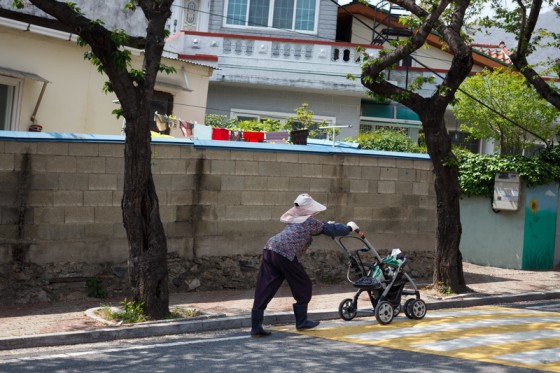 (Canon EOS M + 40mm 2.8 pancake lens with adapter) – Grandma strolling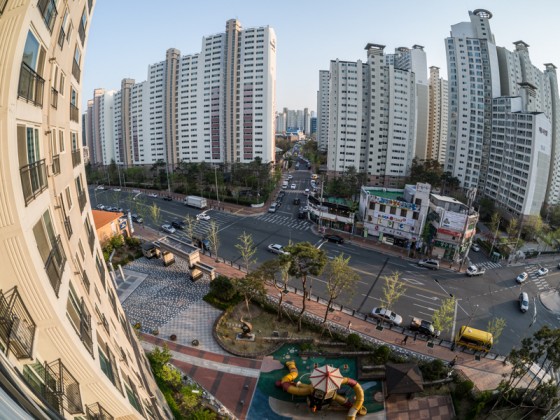 (Olympus OMD EM5 + 7.5mm Rokinon Fisheye) – Daegu cityscape

(OMD EM5 + Olympus 60mm macro) – bee and cherry blossoms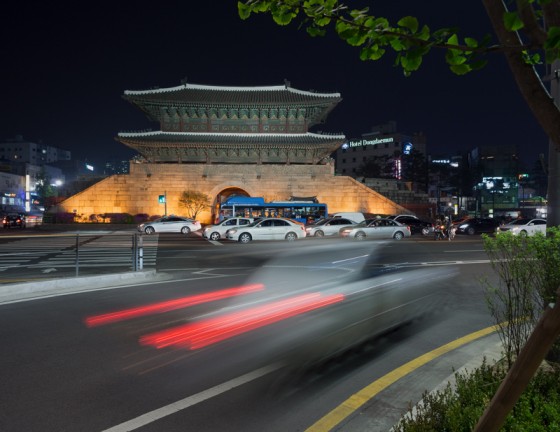 (OMD EM5 + Olympus 12mm 2.0 – in body stabilization allows for hand held long exposure) – Old meets new – Dongdaemun in Seoul, South Korea

Mirrorless camera pro tips:
For M43, the specialty lenses, especially those with longer focal lengths are where this system shines.  My best images come out of the 45mm 1.8, 60mm macro, and Panasonic 100-300.
Having 2 different camera systems is nice, as different sensor sizes excel in different scenarios. Smaller sensors = smaller lenses and more flexibility, while larger sensors = more bokeh.  I love the images that come from the EOS M, but the focus speed is much slower than the OMD.
But the Olympus OMD cameras produce somewhat grainy images – they give a different look from DSLRs… but you don't really get the same smooth look that people lust after.
The tilting touch screen on the OMD is amazing for street photography if you want to be discrete or shoot from a low angle.
In body camera stabilization is a god send… the OMD is incredibly versatile because all of it's lenses are stabilized.