Smallest tripod: Great mini tripods for mirrorless cameras and travel
I have a love-hate relationship tripods. They can frustrate me to no end, but at the same time, I love the photographic results tripods can deliver.
What I hate about tripods:
I don't like lugging them around while traveling (they weigh down my aching back)
I don't like how big tripods limit my mobility on a shoot
I don't enjoy worrying about losing another piece of gear
I dislike how tripods take up valuable suitcase space while traveling

The benefits of tripods / reasons to love tripods:
Tripods help you achieve tack sharp images in dark conditions when hand holding won't do
They allow you to take steady, repeatable shots for compositing purposes (such as HDR)
Tripods let you capture long exposures and timelapses (for example to capture light trails)
You can actually be in your group photos if you have a tripod
Basically, I view tripods as a necessary evil. They might be inconvenient, but there's simply no other way to get certain kinds of shots without one. To show you what I mean, here are two photos taken using the tiny tripods I'm recommending:
I'm not a total tripod hater, but the thing is… I only ever want to shoot with a tripod 5% of the time when I'm traveling. Therefore, I want a tool that does the job without weighing me down during the 95% of the time I want to move around hassle free. Which leads us to my next point…
Attributes of my ideal small tripod:
Weighs next to nothing
Takes up almost no space
Is rock steady, allowing for tack-sharp photos
Today, it's possible to have your cake and eat it too now that pro-level images come out of small mirrorless cameras. I've personally cut the weight of photo travel kit by more than half by switching from a DSLR to a mirrorless system.
And lighter cameras means you can use more compact tripods, which has allowed manufacturers to create new products that make life easier for photogs. During my journeys around the globe during the last couple of years, I've used two miniature tripods that yield big results, and I can personally vouch for them both. Without further ado… here are my favorite tiny tripods that pack a big punch:

The smallest tripod: Joby Micro Tripod for mirrorless cameras
It's often said that the best camera is the one you have with you, and the same can be said about tripods too. If you don't have the gear with you, you simply can't use it. Luckily, this tripod can always go with you no matter where you roam.
The Joby GorillaPod Micro 800 tripod folds nearly flat and is so small that it fits in the tiniest of pockets, even the change pouch on a pair of jeans or an inner pocket in a small camera bag.
Don't have any pockets? No worries… this tripod is so little, you can even keep it on your camera at all times without it getting in the way. When you don't need it, the Joby Micro is collapses and lays flush on the bottom of your camera body.
Despite it's diminutive size, this tiny stand provides enough stability for nearly any mirrorless setup. I've used it pretty extensively with my OMD EM5 mkII + 12-40 f2.8 pro lens, which together weigh about 1.9 lbs or 860 grams (which is pretty heavy for mirrorless). The friction of the tripod's ball joint can hold that weight just fine, even allowing you to tilt the camera forward and backward about 15 degrees.
The Joby Micro is great for setting your camera on ledges, for example at scenic overlooks, or on the railing of bridges (which is exactly where I put it when taking this photo of a canal in Venice). I've even balanced my setup on rounded metal railings before, as the rubber feet at the ends of each leg provide a good deal of grip.
If you're used to setting your camera on your camera bag or on a beanbag to get stability for long exposures, know that this diminutive tripod provides more stability, control, and accuracy than either of those two options in my experience.
Obviously, the biggest downsides of a tripod this small are the inability to elevate your camera high or turn your camera to shoot in portrait orientation when you want a different vantage point. There's not much you can do about turning the camera vertically, but in a pinch, you can usually find a tall rock or a log nearby to place your camera on. For example, to capture the beach sunset image below, I grabbed a piece of driftwood, moved it into place, and set the tripod on top of that.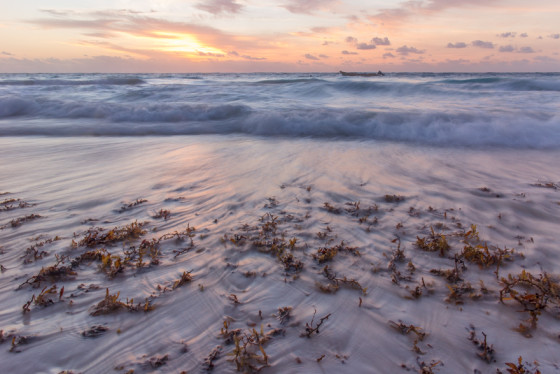 The Joby Micro 800 goes everywhere with you, it only costs about $20, as its size and weight are negligible. In fact, sometimes I forget it's in my bag altogether. But there are situations where you need a more versatile tripod to get the shot you want. If you want a highly compact tripod you can still stuff into a small camera bag, there's another tripod I like to carry with me when I'm on the road.

Check out the Joby Micro 800 on Amazon.com
Photo tripod flexibility: Joby GorillaPod Hybrid for Mirrorless
This next tripod is a bendable wonder that takes up about as much space in your bag as a single DSLR prime lens when folded up. Like the Micro, the Joby GorillaPod Hybrid Tripod for Mirrorless also comes with a sturdy, built-in ball head. However, on this model, Joby included a quick release plate, a tightening screw, a bubble level, and the ability to turn the camera 90 degrees so you can shoot vertically.
And unlike the Joby Micro, the GorillaPod hybrid can stand about 9 inches / 23 cm tall, giving your camera a bit of elevation. The tripod is also sturdy enough so you can point your mirrorless camera up or down at steep angles for more flexibility when shooting.
Where this type of tripod uniquely shines is in situations where you want to grab on a railing, like in the picture above. Like a 3-legged octopus (tribupus?), each of the legs can snake their way around most any object and grip tight.
For example, to take the photo of light trails below, I wrapped the tripod around a metal railing on a downtown Austin balcony. After tightly securing the tripod using some elbow grease, I was able to get this super-sharp 10 minute composite exposure.
In this other photo, the legs of the Joby grabbed on to the edge of a wooden deck, providing enough support to point my Olympus OMD EM5 mkII skyward for an hour and a half to create this composite image of the stars rotating in the sky above my house.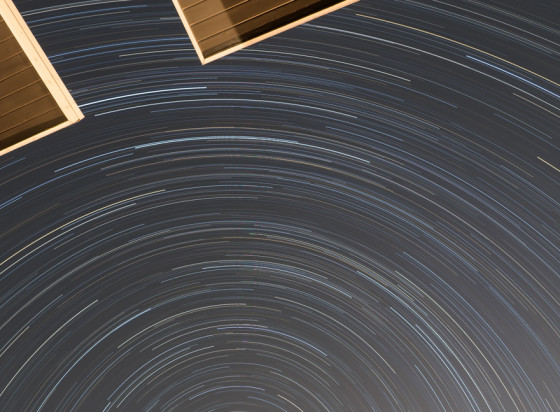 While infinite flexibility is the main strength of the Joby GorillaPod Hybrid, it's also the tripod's main weakness. For example, shooting in portrait orientation can get a little dicey if your camera is heavy, as the weight of your camera is no longer centered when you have the camera flopped over to one side. If you're not careful to balance your setup well, the force generated by your camera could cause the bendy legs to wiggle a bit, causing your tripod to collapse a bit. Therefore it could take a little while to get the Joby Hybrid into just the right position before you can be assured of ultimate stability for the duration of your shot.
But once you get your GorillaPod Hybrid set and well balanced, it's quite solid, especially if you are gripping on to a railing. I will gladly put up with a little extra setup time to avoid carrying a massive and heavy traditional tripod.
Check out the Joby GorillaPod Hybrid on Amazon.com
Who are these tiny tripods for?
The two tiny tripods mentioned in this article are for people who hate lugging heavy tripods around all the time (that's me), but still want to grab the occasional long exposure or low-light landscape shot. They're also for someone who wants to throw these tripods in their bag or car and always have them on hand, just in case.
So if you think regular tripods are a real pain to carry around when you are trekking around, yet you still want ultimate stability and control if you need it, you might be the perfect candidate for the Joby GorillaPod Micro 800 or it's bigger cousin, the Joby GorillaPod Hybrid.